The next set of items I brought back from my east coast trips are ten small faience mugs, manufactured by Royal Copenhagen. As far as I can tell, the company has released a new mug by a different designer each year starting in 1967, and I came back with 10 of the 12 mugs from the years 1967 to 1978.
I have no idea what we'll use these for, since they are quite small (and we don't really drink straight espresso). Here's the 1967 mug with my hand to give an idea of its size:
Despite that, I really liked the designs – especially the later ones – and decided to take them. I think my sister thought I was a bit odd for getting attached to them.
The 1967 one seems not to be in good shape – you can see some discoloration in the picture above – and 1972 (below) shows a similar problem. But all of these have just been sitting in a simple built-in china cabinet for decades, so I'm not surprised they're not pristine.
Here are the other nine (click for larger images):

As you can see, I'm missing 1970 and 1974. I wonder whether Mom didn't buy those, or if they got broken or misplaced somewhere along the way. Honestly I never paid much attention to her china cabinet (I'm sure when I was a kid she told me to stay away from it), so I don't know. Mom doesn't seem to know either.
Here's what's stamped on the bottom of them: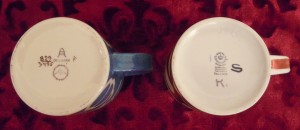 It looks like the earlier mugs, at least, were limited editions. The later ones I can't tell.
I imagine we'll find some nice way to display them at some point. And maybe I'll try to fill in the two years I'm missing at some point. (I poked around and they don't seem to be very expensive.) I guess if I got really ambitious I could "collect 'em all" (they're still making them) and get a case to display them. But I don't really need something else to collect. 🙂