We're back from a long weekend at Disneyland! This was a slightly different trip for us, as we've never gone in February before, and we also flew down rather than drove. When you factor in getting to the airport early, flying is not a huge amount faster than driving (though if they close the Grapevine into L.A. as they did last time we went then it is quite a bit faster to fly), but it is nice to not have to do the driving ourselves, and it really does shave at least an hour or two off of the travel time. We also had a hilarious driver of our SuperShuttle from the Orange County airport.
We stayed at the Carousel Inn, which we were less impressed with. Aside from the extremely small bathroom and the tub drain getting clogged, it has a weird mix of old/new technology: Ancient lights with push buttons which are nonetheless wired to modern wall switches, and an old air conditioner with a modern thermostat control. It was like the ultimate half-assed remodel. At least the beds were comfortable and things basically worked, but it's not a place we'll be in a hurry to return to. Of course it's also very close to the main entrance to the park, which is why we chose it (well, that and several other hotels were full by the time we booked).
Anyway, we bought 3-day passes for the parks since we got there early enough on Saturday to enjoy a half-day. Quite a few attractions were closed as they're refurbishing many of them in preparation for Disneyland's 60th anniversary which starts later this year. The two I missed the most were Soarin' Over California and the Disneyland Railroad. Well okay, I also missed Muppet*Vision 3D, which is temporarily displaced by a Frozen musical theater.
Since we usually go to Disneyland during the holidays, this was a – for us – rare opportunity to see the Haunted Mansion in its standard, non-holiday configuration, which I appreciate more than the holiday version. I'm not a big fan of The Nightmare Before Christmas (I prefer The Corpse Bride), and the bright colors and less-detailed figures of the holiday set-up I find less appealing overall. I particularly enjoyed seeing the "bride's attic", which lead me to learn that Wikipedia has an enormous entry on characters in the Haunted Mansion. You're welcome.
Though we were getting a series of rain storms at home when we left, it was bright, sunny and warm in Anaheim while we were there, and I wore shorts on Sunday and Monday, and was glad I'd brought them. Honestly I almost wish it had been a bit overcast like it was on Saturday, since it was maybe too warm for a few hours at midday otherwise. (I'm sure all our friends who are snowed in in the northeast are really sad to hear that.)
We spent a chunk of time in Downtown Disney, which now features what may be the largest Starbucks I've ever seen:
And we spent chunks of two evenings in the Hearthstone Lounge for cocktails, and one night for dinner since we were not very hungry (having chowed down on fried chicken for lunch) and just had some of their bar snacks for dinner. This lounge is becoming my favorite place to end a day once the parks are winding down.
We rode a bunch of rides multiple times, including the recently-refurbished Big Thunder Mountain Railroad. And while the Radiator Springs Racers is a fun ride, we only rode it once because of its long lines. And honestly, as I remarked at one point, the best thing about the Racers is that it sucks crowds away from California Screamin', which to my mind is the superior ride.
Debbi also bought some Disney pins. I don't think she's going to go full-on into pin trading, but she did have this experience: We were in a store on Main Street and she saw a Tigger pin (Tigger is her favorite character) available for trade. The cast member (employee) working the counter said she could buy a pin off the wall to trade for it, so she told me to pick a pin for her. I picked a Stitch pin, and she made some comment about not liking that pin. (I thought it was fine, actually, but not one I wanted to own myself.) The cast member said, "You know whatever pin you picked would have been the wrong one." Yeah, I did. So, Debbi traded for the Tigger pin, and the cast member took the Stitch pin to put on the board to trade. And just after he did, a maybe eight-year-old girl came up and said that she'd been looking to trade for that Stitch pin all day! So I guess I did choose the right pin!
Oh, and along the way I also took this picture of Debbi: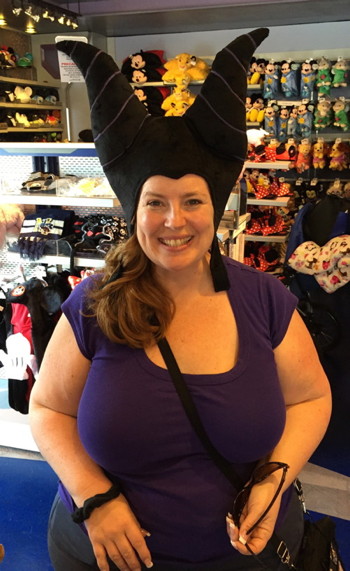 Hee-hee!
We and our tired feet flew back on Tuesday, and got home early enough to run some errands and settle in.
Debbi was intent on not running us ragged on this trip, and I think we had a good mix of doing stuff, standing in lines, and just hanging around. I think the only things we really missed were seeing fireworks, and riding Star Tours (we opted to ride Space Mountain a second time instead).
And I'm sure we'll go back sometime during the upcoming 60th anniversary, too.