It's hard to come up with journal titles sometimes since we're, well, not going anywhere or doing a whole lot.
I took last week off from work. Since we are, again, not going anywhere, I've been accumulating vacation time steadily without the usual trips to spend it on. Originally 2020 was going to be a big vacation year for us, but that didn't happen. Instead I've been taking off about one week each quarter, plus the occasional day off here and there. That's basically burning my vacation time just slightly faster than I earn it.
Since we've been, you know, in the middle of a global pandemic, I probably should be taking the occasional sick day as a mental health day, but I haven't been. Once we start going back to the office – which may happen soon – I'll see how that goes and how I feel. I expect being around people will be good for my mental health, but being around people potentially carrying COVID-19 will be bad for my mental health. (I'm sure they'll feel the same about me.)
Anyway, I spent the first half of the week mostly hanging around at home and doing some chores. For example, ordering some new eyeglasses, which I've been meaning to do for a while. Going to get coffee and hang out at Philz, whose closest location to home has a nice outdoor patio. We also got a good rain shower on Monday, which we really needed, and where I was able to do some yard maintenance ahead of the rain, such as laying down some plant food for various things.
Wednesday Debbi also took the day off and we went to breakfast at Stacks in Campbell, and swung by Recycle Bookstore. Then we went to Santa Cruz, where we went to Bookshop Santa Cruz and the Penny Ice Creamery, before driving over to look at the ocean. It was warm downtown, but cold and windy by the water! So we didn't stay long.
Thursday I decided to drive up to San Francisco. When I got there, I found my car had hit a milestone:
I went by Borderlands Books, where I found a few things. They haven't changed a lot – other than a staffer I hadn't seen before – but I think they're hoping to move into their new space later this year. Then I went by Amoeba Music, mainly because I've wanted to pick up a copy of the new Jethro Tull album The Zealot Gene on CD. They didn't have it, although they did have the ridiculous $120 vinyl/CD deluxe set, but I passed on that.
Visiting Amoeba brought back memories. I went to it and Rasputin in San Francisco, Berkeley, and Campbell many times in the ten or so years after I moved to the Bay Area in 1999. That was when I really got into progressive rock, and it was sort of the golden age of the compact disc, where companies which had issued half-assed versions of vinyl albums on CD in the 80s were reissuing them nice editions with full liner notes and many bonus tracks and other goodies during that period. Those stores were excellent for finding many CDs, including of the increasingly-obscure bands I was getting into – bands which wouldn't be available via download for quite a few years. (I knew the tide had turned around 2009 when there was an album I could not find on CD, but which was available from the iTunes Store. This was the eponymous album by Days Before Tomorrow.)
Haight Street in SF was still fairly quirky at that time (although I'm sure nothing like it had been 30 or even 10 years earlier). I particularly remember one used bookstore with tall bookcases and similarly tall stacks of books on top of those cases. I don't generally worry about earthquakes, but I was worried about being caught in those stacks if one hit San Francisco. That store and many others are long gone, and the remnants of quirky Haight Street are not interesting to me – and honestly, even the tattoo parlors are looking pretty upscale.
Amoeba, however, seems to have not changed at all. They still want you to check your bags at the front. They still have extensive new and used CD sections, and a large side room with DVDs and blu-rays. If much has changed, it's a larger selection of vinyl, as well as some record players. And actually they have substantially improved their organization of artists with large catalogs so you don't have to go searching through three rows of unsorted discs to find the one you want. I hope they're doing okay.
I had lunch at a nice nearby sandwich place called Bite Me Sandwiches, even if I did have to sit on the sidewalk to eat it. (Thanks COVID!) Then I drove over to Green Apple Books, which I haven't been to in forever. Apple Maps claimed that all their locations were permanently closed, which I was pretty sure was wrong, but which made it hard to figure out which one to go to. When I got there I filed a report through the app with a photo of their open front door and hours, and it got fixed the next day. Fight entropy, everyone!
Green Apple Books is one of those old-style "we've crammed a bookcase into every square inch of space" bookstores, with wood floors and writing on the shelves indicating what used to be on those shelves back in the 80s. Still, they have a fine selection of used science fiction in excellent condition, and I picked up a few books here, too.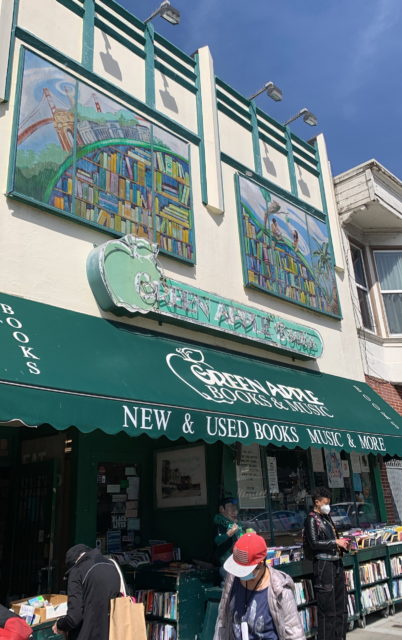 By this time it was time to head out to beat rush hour traffic, which I mostly did, and I came home and collapsed for the day.
The rest of the week and weekend involved more chores and more hanging around. I was pleased to win my first trophy in a Magic Kamigawa: Neon Dynasty draft. And Saturday night we got together with neighbors at the nearby Sport Page bar for drinks and dinner. They upgraded their patio during COVID and it seems to have paid off for them. The only downside was that we got there halfway through the Duke/UNC Final Four game, which none of us cared about, but once it ended everyone cleared out. We had a good time hanging out, including with a couple of former neighbors we hadn't seen in a while.
So it was a pretty good week, though it went by fast, and wasn't as good as, say, going to Hawaii. We know many people who have been travelling, so maybe our turn will come sometime this year, too. Otherwise, I'll probably be writing another staycation entry in three months.