I spent the last third of March back east getting my Mom's house ready to sell. While not really a more difficult trip than any of my visits last month, it still kept me plenty busy.
I flew in the morning of Wednesday March 20, right after Boston had gotten about 9 inches of snow. I guess the snow must have been very light and fluffy, because there were only about 2-3 inches when I arrived. But it was also 28°F, which was more than a tad colder than I'm used to. I didn't bring a heavy winter coat, optimistically hoping it would be closer to spring weather than winter, but at the beginning it didn't work out that way.
I was staying with my Dad again, so I went to his place and we got breakfast. I took a nap (my red-eye plane was packed and I didn't sleep much), and drove out to Mom's house. I shoveled the walk from the driveway and the end of the driveway so my sister Katy and her boyfriend Andrew would be able to park when they arrived later that day (as they were going to stay at the house). I managed to break not one buy two shovels in the process! (To be fair to myself, all three shovels I had access to were pretty old.) I also turned on the heat in the house and turned up the hot water, and both had been turned down low for the winter. Katy and Andrew arrived and we had dinner with Dad.
Thursday we picked up Mom and met with the agents we're using to sell the house, who we really like, and signed documents to put the house on the market once we'd finished taking things out of it. Then we spent the next couple of days mostly going through the house to figure out what was left that Mom wanted to take to her apartment, and what Katy and I each wanted to take with us.
Katy ended up taking a couple of oriental rugs, an end table, and some other stuff. She considered taking the dining room table but decided against it (it's an okay table, but I don't think either of us are sad that we didn't take it; honestly the one I have at my house is nicer even though it's nearly as old!). I took a rocking chair and a chest with a marble top, both of which I shipped through the Boston Packaging Store, who came and picked them up. Both items were very securely packed and arrived a week and a half later in the same condition they'd left, so I can certainly recommend them as packers for anyone in the area who needs a service like that.
I spent quite a bit of time over the next week helping Mom get everything she wanted, which mainly meant books. Andrew installed another bookcase in her apartment, but we brought over plenty of books to fill it. She also took some clothes and a few other items (and Katy made her take a few pieces of cookware). But since this was her last chance to get anything she wanted from the house, I was willing to do it all.
Katy and Andrew left on Saturday, and Sunday I took a break and went down to visit Debbi's sisters and their family.
Andrew took a few pictures of the house, and of the three of us, before they left: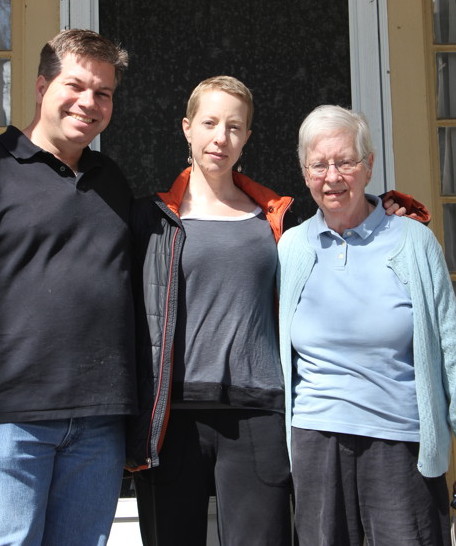 It warmed up during the second week, going from highs in the mid-30s to highs in the high 40s, which is still cold by California standards, but got into the range where I was pretty comfortable wearing my jacket. The snow mostly melted during the week, and I spent some time raking leaves in the driveway and the yard, so the house would look a little better when it was being shown. (Debbi poked fun at me since I kept mentioning trying to make time to rake leaves.)
Also this week, I was having most lunches with Mom as we continued to get stuff from the house, and then most dinners with Dad as I went back to his place for the evening. Tuesday was the exception to both of these, as in the morning I was at the house waiting for the packing company to come pick things up, and then I went and had lunch by myself. In the evening I went into downtown Boston to have dinner with my friend Bruce, whom I hadn't seen since my first trip last year in July, and we caught up on stuff over dinner and then coffee afterwards.
On Wednesday we took Mom's cat Maggie in to the vet for her annual checkup, which I'd wanted to make time for while visiting. Catching Maggie was quite a trick, as she ran around the apartment for over 5 minutes before I finally managed to grab her. I think this soured her on me for the rest of my visit. Alas. Anyway, the vet is a nice place in Waltham who have a resident cat who is nearly as old as Newton! They checked Maggie out and the only issue was a bunch of wax build-up in her ears. She's about 10 – which is how old Roulette is – and is in good shape for that age. Since she lives without other cats in Mom's small apartment she's not as active as Rou, but then she wasn't as active as Rou back when I stayed at the house last July. Maybe it's having other cats around that stimulates cats.
Mom and I also went to the Book Fair for her to buy some more books, and I took her to the pet store to pick up some stuff for Maggie.
By this point I was entering the endgame of my trip. I met with the agents again on Thursday to wrap things up with them, including plans to hire someone to empty the house after I left. And Mom and I took a whole bunch of pictures of the house with our cameras. I wished I'd had the presence of mind to take them when Katy and Andrew were there, so the house looked a little more lived in, but we were just too busy. Seeing the house closer to what it must have looked like when my parents moved in was interesting. It was emotional to know that this was the last time I'd visit the house.
Thursday and Friday I was also packing up the stuff I'd saved from the house that I wanted to keep – a few trinkets, and a lamp that Katy had found that I decided looked pretty neat and would work well in our guest room. Also some of Mom's papers that I wanted to have with her financial records with me in California. I'd been very happy with FedEx's packing job last October, so I used them again, and happily everything arrived in California intact a week later. I spent at least one evening going through some boxes of photos, and picking out some ones I wanted. There were fewer old photos than I'd expected, but then there are also at least four photo albums with pictures from the 1970s which I didn't get to. Next time, assuming Katy hasn't taken them by then.
Friday was my last day at the house, and the last visit with Mom, as I didn't feel like driving all over on Saturday morning knowing I had to pack and catch the train to the airport in the early afternoon. So I had brunch with Dad, and then headed off. My flight home was delayed an hour because the refueling truck for our plane spilled some fuel on the tarmac, but we eventually made it into the air. Fortunately, the flight was not very crowded so I had a row to myself. Unfortunately, I'd started getting sick the night before and was a borderline zombie for the flight. Debbi picked me up and took me home and I collapsed into bed after we ate.
It was a successful trip. It was a sad trip. I was a lot busier on this trip than I'd expected (originally I'd thought I might end up working 2 or 3 days while there, but it didn't come close to happening). I'm relieved that it's over, and I'll be relieved when Mom's house is sold. But it was exhausting.
All told, Mom lived in that house for just short of 40 years, and owned it for a bit longer, I lived most of my childhood there, and Katy lived all of hers there. The house itself had its drawbacks, but it was a good house overall. And the location couldn't be beat, as kids, as teenagers, and as adults going back to visit. It was a comfortable place.
Goodbye, house.