Last night I went to a baseball game in person for the first time in several years. Honestly my baseball fandom has flagged in recent years, but I followed it closely for almost 20 years so I don't feel too badly about it.

I'd actually been invited as part of a group to a luxury box at AT&T Park. I'd been to a Giants luxury box once before, and it's very nice, but when I got there it wasn't what I expected: Rather than one of the paneled boxes in the second deck, the "Corona Beach Club" appears to be where the news photographers used to set, so it's in front of the first row along the first base line, about 3 feet below field level. The view from the box looked like this:

The folks hosting the box sprung for a fair amount of catered food, for instance this: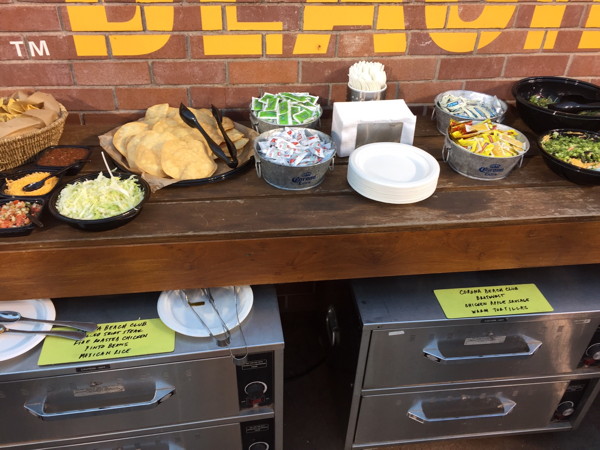 It was all quite yummy. Well, the sausages were standard ballpark sausages with moist buns, so that wasn't great, but I mostly stuck to the soft tacos.
It was a pretty exciting game. Admittedly, with only 4 games left the Giants weren't playing for much, as all that was left to decide was whether they'd be hosting their wild card game or not, and they'd clinched their wild card spot earlier that day when the Brewers lost. Still, the Giants jumped out to a 6-0 lead, then watched it collapse in the 7th inning, backed by a grand slam, and then they retook the lead in the bottom of the 7th, helped in part by a successful suicide squeeze (I don't think I've ever seen one in person before), and eventually won the game 9-8. It took three and a half hours – I think a third of it making up that seventh inning.
The team was also celebrating the 60th anniversary of "The Catch" by Willie Mays (which actually happened on September 29, but there are no games scheduled for that day this year), and Mays (who is 83 years old) came out in a very spiffy car, and was driven around the field occasionally throwing baseballs into the crowd. I snapped a couple of good pictures of him, the second one being just as he tossed a ball into our box (no, I didn't catch it):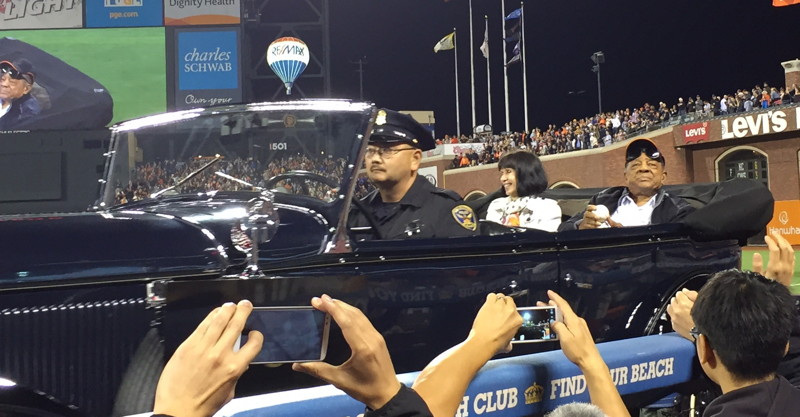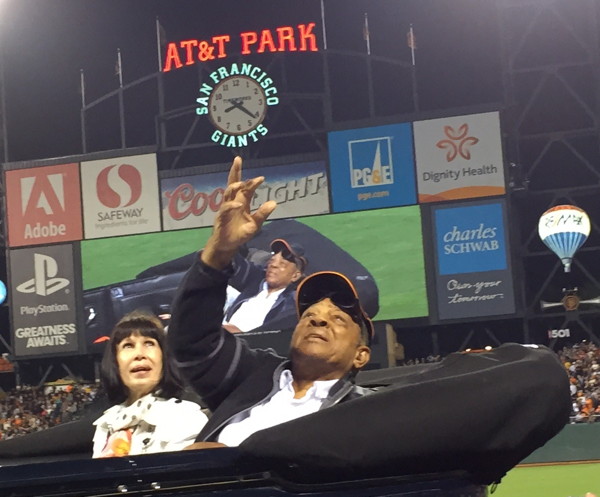 Occasionally Major League Baseball is a little too wrapped up in celebrating itself, but it's hard not to appreciate when a team does something like this for one of its greats.
The weather was great, the game was fun, I got some good pictures, and even enjoyed riding CalTrain to and from the park (and the walk home from the station at a little after midnight was kind of pleasant, too). I'm gonna have to go see another game or two next year.