We're back from a 2-week vacation to Massachusetts – which I think is the longest vacation I've taken since our Hawaii trip in 2011. We had originally planned this trip as part of Debbi's sabbatical, but then she changed jobs so it became its own thing. Moreover, I haven't taken much vacation time in the past year because of a big push at work, so I was due. (The last time I went a year taking so little vacation was 2005, but both times were for good causes. This coming year I'll take more time off, if only otherwise I'd hit our vacation cap!)
Anyway, this trip was our annual visit to see our families – well partly, but I'll get to that shortly. We took the red-eye flight from San Jose, landing in Boston the morning of Saturday June 24, picking up our rental car and driving to my Dad's house. Red-eye flights are getting harder to weather so I don't know how much longer we'll keep doing them; at least I've learned to sleep on planes a bit, but Debbi hasn't.
We had breakfast with Dad, took a late-morning nap, and then had lunch. Otherwise we just hung out for part of the day before driving down to Debbi's family's place where we had dinner and hung out some more. All three of the teenaged niephews [sic] hung out too, which shocked all (well some) of the adults. Sunday, we… well, again I'll get to that in a moment. And then we drove back to my Dad's and had dinner at the Regal Beagle. We got caught in a rainstorm on the way home and spent some quality time hanging out in the Arcade Building, checking out some of its corners that we'd never had reason to visit. (It's not that interesting, but the century-old decor is unusual today.)
Monday we drove up north to visit Nancy, a high school friend of Debbi's, and her husband Dan (and their cat, who I followed around until I convinced her to let me pet her). I didn't really know Nancy in high school, but I knew who she was – which frankly was about how well I knew Debbi in high school! Afterwards Debbi drove back to her family and I spent a few days with Dad.
Dad and I made some of the usual rounds, including visiting my Mom's grave at Mount Auburn Cemetery, and going out to Waban where I grew up, having lunch at Barry's Deli, which is very nearly the last thing left from my childhood town that hasn't changed much. I've written before about Mom's house being replaced with a much larger home, and now the large house on the corner – on a huge lot, and which I understand had been built around 1890 – has been torn down and replaced with two large houses. What will the neighborhood look like in another 40 years, I wonder?
I wanted to wander in to the Waban Library Center, but they weren't yet open. However, walking up I remembered that one of the attorneys who had probated her estate had bought a memorial brick there, so I found it and took a picture. There are actually two bricks, and I don't remember who bought the other one. (I might have a note of it somewhere, or it may remain a mystery.)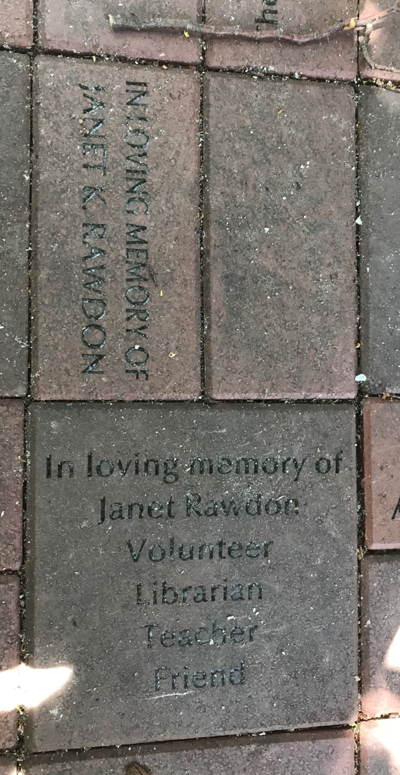 The other place we went was That's Entertainment, which is a huge comics, game and hobby store in Worcester. I remember why I only go every few years, because it takes over an hour to drive there! This trip was well worth it, though, because I managed to find all but 4 issues of two different runs of comics I'd been looking for. As with most series I'm currently collecting, they're both not valuable and not in demand, so hardly anyone stocks them. I also managed to stump several employees with a question, which went down the line of four employees before someone knew the answer. (The answer, alas, was that they didn't have any old issues of Dragon magazine in stock.)
We had originally planned to go to the Museum of Science on Thursday, but the weather dissuaded us. Instead Debbi drove up and had lunch with us, and she and I took the train into the city to have lunch at Faneuil Hall and look around. It was a little soggy, but not too bad. I bet parking and crowds at the museum would have been bad, though.
---
For the second half of our vacation: Well, a couple of years ago we bought a beach house on the south shore on Humarock. It was a keep-it-in-the-family purchase, and it's mostly my in-laws who use it, but we arranged this trip so we could spend a chunk of time there, including the July 4 holiday.
The house had sustained some damage from the strong winter storms earlier this year. It sounds like these storms were the strongest in a generation, if not more, and we saw pictures of many houses hit much harder than ours. We ended up with some roof leaks, and some damaged furniture, but not much more than that. In particular it sounds like we avoided any serious mold issues. We hired a great contractor who put on a new roof, aired out the attic, repaired some damaged walls and ceilings, and discovered that the bedrooms have hardwood floors under their ancient 70s-era carpets. Even better, almost all of the work was done by the time we arrived.
So the first Sunday we went with the in-laws to check things out, and move some of the furniture back into place, as well as figure out what projects we wanted to do while there. We met with the contractor to go over some things, and also bought a new grill as the old one was getting pretty rusty. Then on Wednesday Debbi and Shawn (the brother-in-law) picked up some furniture at IKEA.
Friday we arrived to find a worker replacing one of the windows, so we left him to do his work and went out to get lunch and pick up stuff at Target. Many of the furnishings were still jammed into the undamaged bedrooms, and we weren't sure whether some things – like curtains – survived or had been kept, so we bought more than we needed to. When we got back, we moved the bed back to the master bedroom and moved around some other things, and found that several items did in fact survive, so we were able to return some stuff later! Then in the evening I drove into Boston to meet my old friend Bruce, whom I haven't seen in about three years. We had dinner at Maggiano's, and caught up with the latest developments.
Saturday the in-laws arrived with the IKEA furniture and Shawn, Debbi and I spent most of the afternoon putting it together in fairly hot and humid weather (alas, the house does not have A/C), with the World Cup games on in the background. The in-laws are big soccer fans and were following them closely. I'm not much of a soccer fan, but it's an interesting break from baseball. While people didn't stay overnight with us, we did grill dinner together, and then they headed home and came back the next day for a much lazier day.
Monday Debbi and I drove into downtown Scituate for lunch and to walk around the harbor area. We also drove over to Old Scituate Light, which is in a surprisingly built-up area, but is worth the visit nonetheless, for the view if nothing else. Supposedly the battle which resulted in the line "Don't give up the ship!" occurred near there as well. We also made another run to Target, where I embarked on a small project to replace many light bulbs in the house with LED bulbs, since the heat from the incandescent bulbs was pretty nasty in hot weather.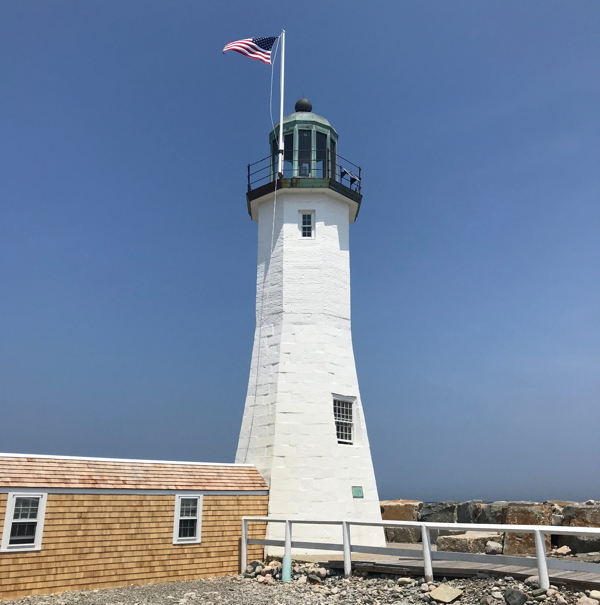 In our driving around we also worked our way through the first (and so far only) season of a conspiracy-fiction podcast called Rabbits, which we both enjoyed quite a bit. I've been listening to a lot of podcasts lately and need to do an entry or three about them soon.
And indeed Tuesday was probably the worst day for heat and humidity that we had, and we spent most of the day lying around the house like slugs. We did make a run to the grocery store, where the A/C tempted us to wander the aisles for longer than we would have otherwise. Thankfully, it cooled off late in the afternoon when the fam arrived, and we were able to hang out on the beach after sunset and watch the fireworks.
But wait! you say, Tuesday was July 3! Yep, Humarock has a long-standing tradition of fireworks on July 3 rather than July 4. Up and down the beach – several miles of visibility in each direction – people were shooting off fireworks, probably thousands if not tens of thousands of dollars worth. All perfectly illegal, I'm sure. But it sure was a great display. There were also a couple of people launching fire lanterns which would drive over the ocean and into the clouds.
Wednesday July 4 was another great day weather-wise, and we spent much of the day on the beach. Around the time the fam was heading home, Nancy and Dan showed up for a few hours, to hang out and grill dinner. They headed out a little before sunset, and I spent an hour meeting one of my last goals, walking up to the end of the sandbar peninsula on which our house sits. I had to book it back before it got pitch black, but despite the rush it was a nice hike with some great views.
We'd planned on Thursday to hang out around the house until late in the afternoon and then head back to Dad's, but it turned out to be another humid stinker, so we actually called it a trip around noon, had lunch on the way out, and then drove around for a bit before heading back. It was sad to go – other than the weather – but we had a good time, and a good mix of Getting Stuff Done and Enjoying Ourselves. Unfortunately at Dad's we went back to the Beagle for dinner, but their A/C was out so it was kind of a downer of a meal. (Not as much of a downer as it was for the wait staff, I'm sure.)
Finally, Friday it was a rainy day and we mostly hung around at Dad's until it was time to drive to the airport and catch our plane. It didn't rain enough to delay our flight, so we got home more-or-less on time, said hi to the cats, and collapsed into bed. Then we had the weekend to recover and get ready for a new work-week.I think this was the longest vacation I'd taken
All-in-all a great trip, though as usual we were ready to come home to our own bed and our cats by the end of it. But we'll be back. Because ocean.