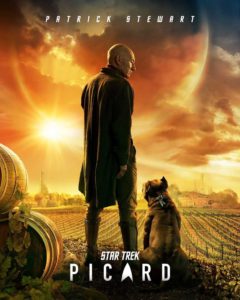 Why did I even watch Star Trek: Picard? I noped out of Star Trek: Discovery after the godawful first episode. I've been pretty consistently disappointed with Star Trek ever since The Voyage Home back in 1986. I went into The Next Generation with optimism, but was quickly disenchanted with its character-light, conflict-free, unimaginative storytelling, bailing in the second season. I came back to it late in the third season (the series' modest high point) when I started participating in rec.arts.startrek, but bailed again in the sixth season. I ejected from Deep Space Nine in its second season, and other than a brief fling with the first season of Enterprise, that was it for me and Star Trek on television. I did enjoy the first J.J. Abrams film, but the other two were pretty meh.
(In the unlikely event you're curious what twentysomething me thought of mid-series Next Generation, you can read a bunch of my reviews here.)
That said, I do enjoy Star Trek: Nemesis, and I enjoy it more now than my review at the time says I did at the time. Indeed, I think it's the best NextGen film, though it's not perfect, but it boiled down NextGen to its two best characters: Picard and Data. It struggles to fully develop its themes, but at least it has themes.
Star Trek: Picard seems to have highly variable word-of-mouth. Some people love it, some people hate it. I inferred from context that big fans of NextGen did not enjoy it. So maybe that meant I would? And the more I learned about it, the more appealing it seemed: Michael Chabon is involved. Picard is struggling with recriminations in his retirement involving Data's death and the destruction of Romulus (a plot point in the Abrams reboot).
And, well, Jean-Luc Picard was the best thing about NextGen.
So tonight I signed up for CBS All Access, and watched the first episode.
And it was a fine hour of television.
My spoiler-free reaction to the first episode, "Remembrance", is that Picard is a deep character who is indeed dealing with some of the traumas of his career, and the story overall moves Star Trek substantially forward from The Next Generation, rather than just rummaging around in the show's past. There's drama and action, and the promise of a lot of suspense and ratcheting up of the stakes to come. But – perhaps most importantly – it moves beyond the feel-good utopian-future nonsense of The Next Generation: Picard is fallible, the Federation is fallible, people make mistakes and have feelings about it. Like humans.
A more spoilers review after the cut:
Continue reading

"Star Trek: Picard: "Remembrance""