Did you ever find yourself mostly stuck at home for months on end and think to yourself, "This would be an excellent time to adopt some kittens"?
Well, we are, and so we did. Meet Simon and Edison!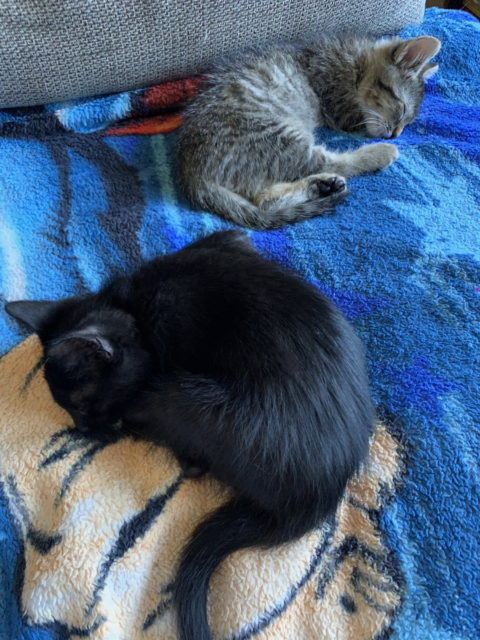 Simon is the brown tabby, while Edison is the black fellow.
We met them because one of my cow-orkers was fostering them, and we went over to visit a few weeks ago (pretty much the only people we've visited indoors since shelter-in-place started in March), and we thought they were pretty adorable. But, color-wise, they fit in with our three current cats, Roulette (calico), Jackson (gray tabby with white), and Sadie (white with orange tabby markings). And they had fun, playful personalities. So we decided to adopt them!
They are not brothers – Edison is about a week older than Simon according to their records, and they're about two and a half months old. Simon has had a rough first couple of months, with some sort of bug that suppressed his appetite, and a foxtail or something in his right eye which left an ulcer. But he seems to have recovered from both, and is a little behind Edison in size and weight.
We brought them home two Mondays ago, and they've been mostly confined to a bedroom since then. And holy cow they are just about the most high-energy kittens we've ever had, other than maybe Blackjack. They zoom around their room and play and play and play. They're changing practically every day, learning to jump higher, complaining that I'm not scooping their litter enough (we put a larger tray in the room after a couple of accidents), finding their meows, learning to snuggle, learning to clean themselves. Some switch flipped in Simon a couple of days ago and he's become a lot more assertive, which has been adorable.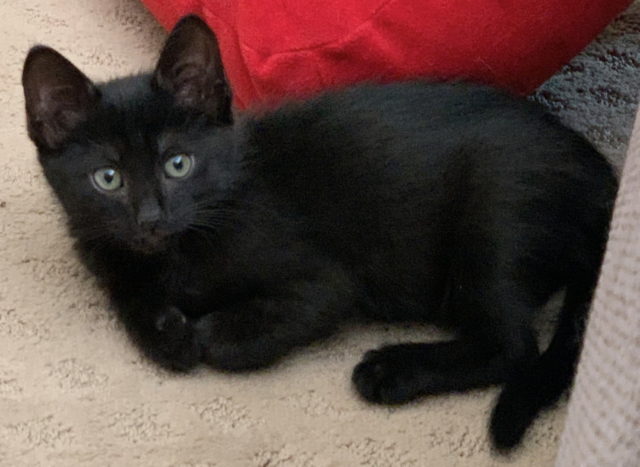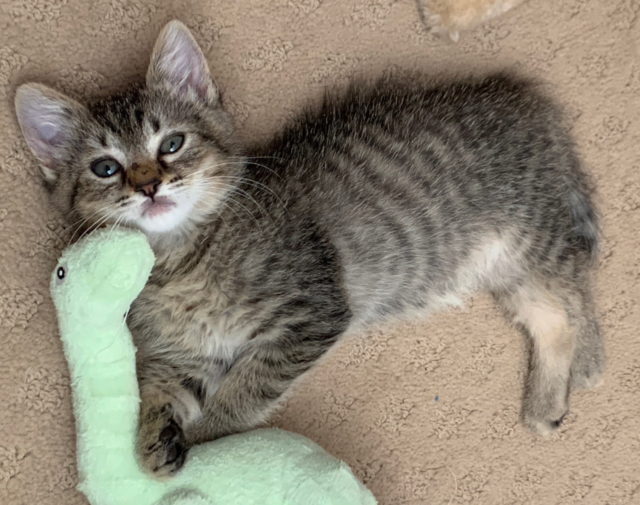 We've given them some supervised access to the rest of the upstairs, which they find delightful. They're also very interested in the big cats, though only Jackson is interested in them so far, and somewhat cautiously, although we've played with all of them at the same time. Sadie will get a glimpse of them and then run away, while Roulette doesn't like the cats we already had and I think is in denial that we have more.
Unfortunately, it hasn't all been fun and games.
We took them in for their first appointment with our vet, for which they did very well. Both have put on a bunch of weight since they arrived (Simon is going to be a roly-poly guy, while Edison is going to be long and lean). That's good, but less good is that they both have upper respiratory infections, and also conjunctivitis (or something like it). So we get to give them both meds for the next week and a half, and have to keep them separated from the other cats – and likely also change our clothes when we visit them – to keep the others from getting infected (especially Roulette, who will be 17 later this month; Jackson and Sadie are 7 and can probably deal with an infection if they contract it). Aside from the hassle for us and the disappointment for the kittens, it also means it will be a couple of weeks at least before we can start integrating the household.
Hopefully we'll all come out the other side okay, but it wasn't a great start to the long weekend.
As for the names? I've had "Edison" in my back pocket for decades waiting for the right cat, and I think this is the right one. We talked through a bunch of other names and both liked Simon. Of course, these are my fourth and fifth cats whose names end in "-on" (Jefferson, Newton, Jackson), so next time we'll have to add a little more variety. But I think these names suit these kitties.
So despite the speed bumps, we're very excited about these new additions. I've felt since they arrived like these are exactly the kittens we were meant to have.