I took a week off recently for a visit from my Mom, who hasn't been here in a couple of years. We'd planned the trip a couple of months ago, so we didn't know that she'd end up being here right in the middle of our escrow period for our new house! This had some pluses and minuses: The plus is that the day she arrived, Wednesday, we had a walkthrough of the house with the agents and the seller prior to removing the property contingency, so she was able to come along and see the house. The minus is that we were still working through the approval of the mortgage, so we had several times during her visit when I had to spend time sending more information to the lender. But despite some frustration over that, it all worked out.
House stuff aside, we had a very nice visit.
Thursday (two weeks ago) we drove over to Half Moon Bay and had brunch at the Main Street Grill, which has Mom's favorite eggs benedict, or so she's said. We walked around downtown and hit the used bookstores, and then went for a walk along the coastal trail, which was fun but a bit chilly and very windy. Then we went by the Bay Book Company where we talked with one of the staff at some length about mysteries and science fiction, and picked up a few things. On the way back we drove along Skyline Drive and stopped at various vista points.
Friday we had brunch at Stacks in Campbell, and then hit Recycle Bookstore where we ran into my friend Chad. Then we drove up to Big Basin Redwoods State Park, doing the redwood loop trail and visiting the gift store, which I hadn't been to before. After a round of talking to Debbi about some new information needed for our pending mortgage, we were able to head down to Santa Cruz where we walked along the beach, got some frappes, and walked out the wharf. Unfortunately there weren't many sea lions under the wharf, though we could hear a few.
Saturday Debbi joined us for a trip into the city. Alas Borderlands Books was having an event, so Mom wasn't able to meet their cats, who were hiding in the back. (I found three hardcover books, however.) We went to Golden Gate Park to go to the Japanese Tea Garden, and then to Ghirardelli Square for ice cream.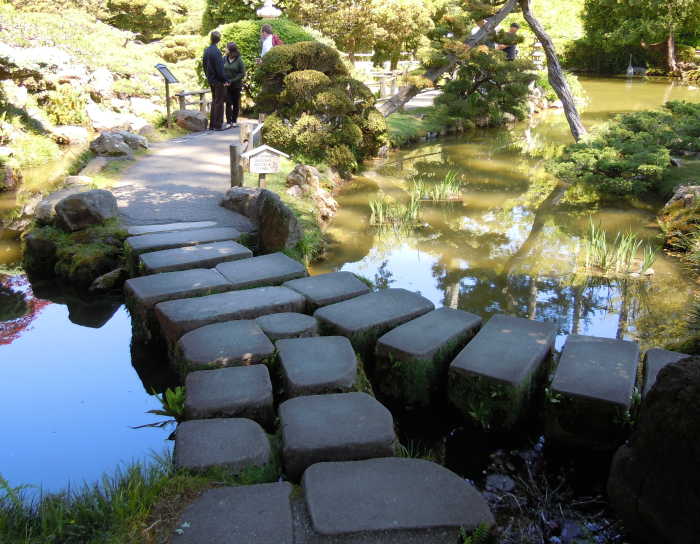 The tea garden is always pretty
We also made a special trip to Pier 39 since Mom loves the sea lions.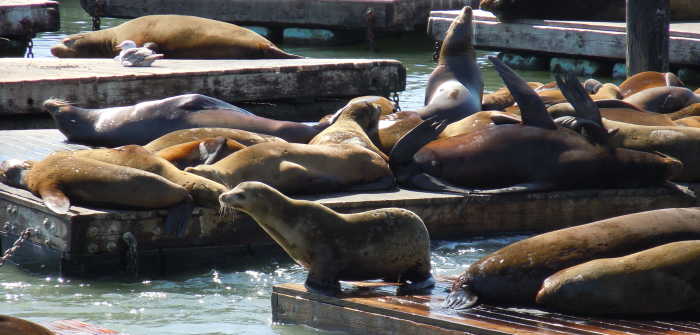 There weren't a lot of there, but there were some.
Sunday we had brunch at the Moss Beach Distillery and drove around the coast a bit. We stopped at the Fitzgerald Marine Reserve where we saw – among other things – a beautiful hawk hanging out on the hill above the entrance: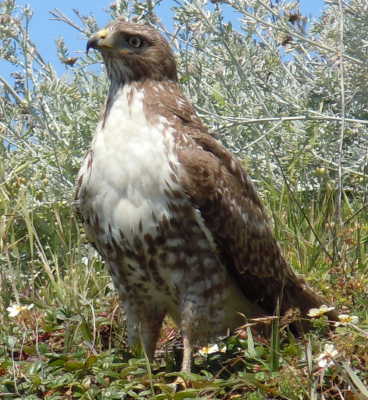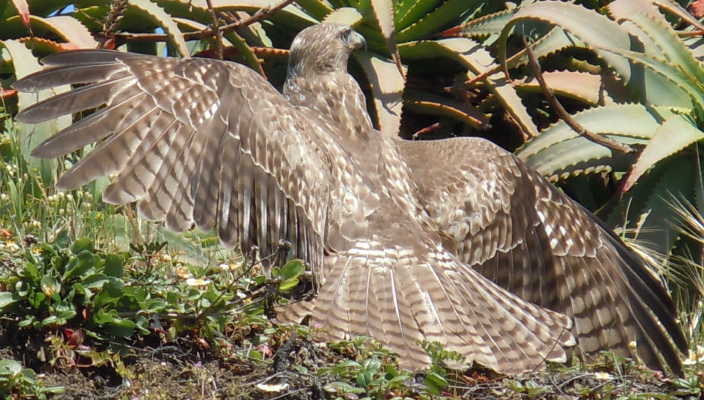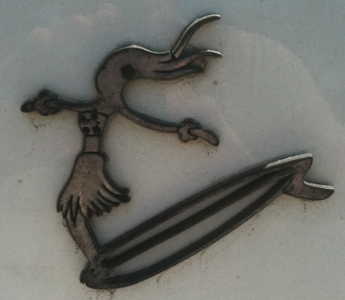 Surfer girl car magnet I saw in the parking lot
We ended up at the Point Montara Lighthouse, which I'd learned recently had originally been built in Wellfleet, Massachusetts and somehow migrated to the California coast in the early 20th century.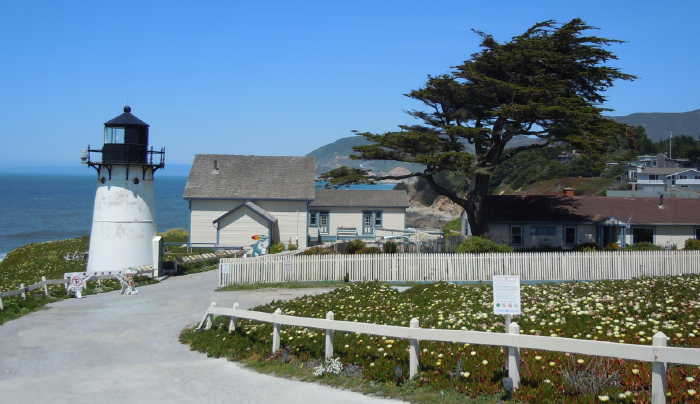 Monday we had a fairly quiet day in the valley, dropping by Apple so Mom could pick up some swag at the company store (and so I could swing by my office and pick up my newly-delivered iPad), and also swinging by the other branch of Recycle Books. Yes, I think we hit just about all the book stores on her visit – which she was happy to do. Here's a list of all the ones we visited:
Blackjack especially enjoyed her visit: She's his absolute favorite house guest, and he'd be up on her bed at night meowing at her to go to bed. It was really cute. I think Debbi was a bit jealous, though. But for whatever reason he seems to like Mom better than any of our other visitors.
Tuesday I took her to the airport, the week having just flown by. We even spent more time than usual just hanging out at home (and of course plenty of good food), yet we still couldn't believe it was time for her to leave. Hopefully it won't be too long before she's able to come back.