It's been a quiet, nay, lazy, Christmas holiday around here. Both Debbi and I have Christmas Eve through New Year's off from work, and I took Monday off as well.
Tuesday we went up to California Academy of Sciences for the fourth time this year, getting a lot of value out of our annual memberships (which we decided to renew for next year). We saw a planetarium show we hadn't seen, and also saw their two live reindeer. Also the penguins were very active for a change! After lunch we headed to Borderlands Books where we picked up several items and sat in their cafe for a while.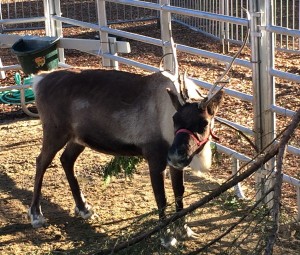 We have a quiet set of traditions here at our house. We put up Christmas lights outside the house in early December (well, weekend after Thanksgiving this year), then put up a pair of artificial trees (a big one in the living room, and a small one in the family room so we can have some lights in there where we sit to watch TV). Christmas morning we come down to open presents, then we have breakfast, then shower, and talk to family somewhere in there. For dinner I make bacon-wrapped meatloaf. Variations this year included grilling baked potatoes with the meatloaf, and watching the Doctor Who Christmas special (about which I should write its own entry, but the short version is that I didn't like it much – especially compared to "The Day of the Doctor", which I adore enough to have watched about ten times since it aired).
I "won" at Christmas presents this year, as I bought Debbi a replacement for her "cat hair is a condiment" mug, which I broke (and later glued back together) earlier this year, and also bought her a stand-up mixer, which she'd expressed an interest in (but didn't expect to get nearly this soon). Specifically I bought her a red KitchenAid Artisan mixer, which got good reviews. It comes in a variety of other colors, some of which are a little odd but would probably fit some personalities or home decor well.
Debbi bought me a Hubsan X4 quadcopter, which is gonna take me some practice to get use to. Jackson was fascinated by it.
Speaking of Jackson, we learned that he's our wrapping paper cat; he doesn't so much as pounce on it, as burrow into it and lie down.
My sister and I did a video chat, which I suggested so we could show each other around our respective houses, since she hasn't visited me since we moved here in 2011, and I've never visited her and she bought a place last summer. I did this with my friend Jim a year ago when he was in the hospital over Thanksgiving and it seemed to work well. So Katy and I carried our iPads around the houses to show everything off. While our house is quite modern, hers is almost a century old and she's been doing a lot of work on it (with her own two hands!), so we got to see the rooms in various stages of refurbishment, which is pretty cool. Once she has most of the major work done, it's gonna look really nice. They don't make 'em like that anymore (which has its good points and its bad points).
Otherwise we spent a quiet day at home, and didn't go 20 feet away from the house until we went for a walk around the neighborhood after dinner.
We don't have a lot planned for the rest of our break, so I expect we'll mostly hang around the house for the next week. Which is fine, since I like our house. 🙂