As has been widely reported, California is sorely beset by wildfires, with two of the largest in history ongoing right now. Southern California is contending with the Woolsey Fire, which for a while looked like it would be the better-known of the two as it encroached on populated areas outside of Los Angeles, evicting several celebrities from their homes, and even destroying some. That was until the Camp Fire, over an hour's drive north fo the state capitol of Sacramento, became the deadliest fire in the history of California. Over 50 people have been reported dead, and hundreds are missing. Friends of people we know have lost their homes, and the whole town of Paradise has been effectively destroyed.
It's ghastly, and it's probably the new normal in California due to climate change reducing annual rainfall. Moreover, much of California is hilly or mountainous wilderness, making it difficult and expensive to manage the foliage which fuels these fires, as well as to fight the fires when they break out.
The Camp Fire erupted a week ago now, and the prevailing winds have blown a large amount of the smoke down here to the San Francisco Bay Area – over 200 miles away. Last Friday was the worst, with smoke clogging the air and everything smelling burned. Outdoor kids' activities over the weekend – including the soccer games of our friends' kids – were cancelled. We mostly stayed indoors. By Monday the smell had mostly abated, and the sky looked clearer, and there seemed to be hope that a change in the winds would clear things up later in the week.
It hasn't happened: Today is nearly as bad as last Friday, and my nasal passage can feel the smoke even inside the house. I could get a filter, but I'd probably have to wear it all the time, and those filters are not really things you can sleep in. The hills – about ten miles away – are completely blocked out by the smoke. The sun is breaking through, but the sky is still quite hazy.
Imagine what it's like for animals, especially ones whose owners have to put them outside during the day. The alternative is to, what, lock them in a small room for 8+ hours? And even then it might not help with the smoke all that much.
Meanwhile, fall weather has arrived with lows in the 30s overnight (but highs still around 70°F, thus I'm still wearing shorts during the day). But the temperature and the smoke don't seem to affect each other at all – unless the smoke is blocking out enough sunlight to cool it down more than usual. I'm not sure. I haven't gone running since last Wednesday, and I've been curtailing my outdoor walks after lunch, too. It's bad. We're starting to go stir crazy from being inside all the time.
The Camp Fire is still less than 50% contained, and even if it were fully contained it might keep burning for days or longer – containment just means it's not growing any larger, but there's still probably plenty of fuel inside the containment area to continue burning.
Our moronic President tweeted the following last weekend: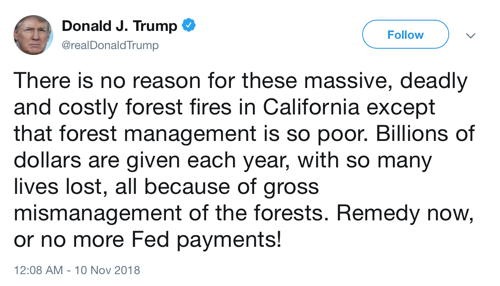 So this awful environment is our new normal for probably the next week or more. The long-range forecast is predicting rain coming on Thanksgiving Day, and that would help a lot, but that's also a full week away.
Climate change is already here for California. It's coming for you too, whether in the form of heat, or winds, or storms, or food shortages. The Earth is going to be a very different place for humanity to live in a few decades. If we make it that long.