Saturday night we went up to the Cartoon Art Museum in San Francisco to see J. Michael Straczynski speak in promotion of his memoir, Becoming Superman. The talk had been postponed from mid-August because JMS had a freak accident and badly dislocated his shoulder while leaving for the airport.
The museum is in one of the busiest parts of the city, next to Fisherman's Wharf, so we went up early and got an early dinner so we'd be there on time. We walked past the museum and noticed the talk had been moved from 7 pm to 8 pm. Huh, just a typo? I checked Twitter, and it seemed Straczynski had been stuck at the airport in Burbank for hours due to fog in SF. (The SF airport is actually about 10 miles south of the city, but in an area that arguably gets much more fog than the city itself!) Nonetheless, after killing some time at the Musée Méchanique, we were first in line when the doors opened at 6:30.
Fortunately, Straczynski was able to get a standby seat on an earlier flight and managed to arrive nearly to the original schedule! However, since the event had been announced to have been postponed until 8, he and his interviewer vamped for half an hour. The vamping, however, was just as enjoyable as the talk!
I haven't yet read the book – I bought a copy as part of my ticket to get it autographed – but I'm quite looking forward to it. Because this event showed that Straczynski is as good at telling stories about himself as he is at telling fiction. (I'm a huge fan of Babylon 5, and have enjoyed many of his comic books as well.) After the "warm up" where he told a few stories of his previous visits to San Francisco, he bantered with the interviewer and related tales of his early life and career, through The Real Ghostbusters and Murder: She Wrote. Unfortunately time ran short for later stories and turned to questions from the audience, but nonetheless it was well worth the trip. He was funny, self-deprecating, and thoughtful. Afterwards he signed books and briefly chatted with attendees. I had him sign Becoming Superman and Midnight Nation, although if I'd thought of it I might have had him sign The Twelve instead – though they both hit me in similar ways, they just take different paths to get there.
Now, here's the paragraph that I've written several times and just can't get quite right, but I hope my meaning comes through:
I don't really have "heroes" or "idols" among media figures. Many of them seem like good people, many of them have admirable stories, but it also seems like they often don't live up to the hopes we vest in them. And, well, they're only human. That said, I've been following Straczynski since the early 90s when he was promoting Babylon 5 online before it aired, and I've always thought of him as a good guy, a straight talker, someone who deals with people fairly. These days he's quite active on Twitter and watching him politely but firmly stare down Twitter trolls can be a sight to see. His writing is fun, engaging, and thoughtful, and he pulls back the curtain to explain where he's coming from. He owns up to his own failings. He's not the only person with these traits, but what he writes and who he is speaks to me like few others do. And I was delighted to see that all of that comes through when seeing him in person, too.
Oh, and he was willing to have his photo taken with this guy: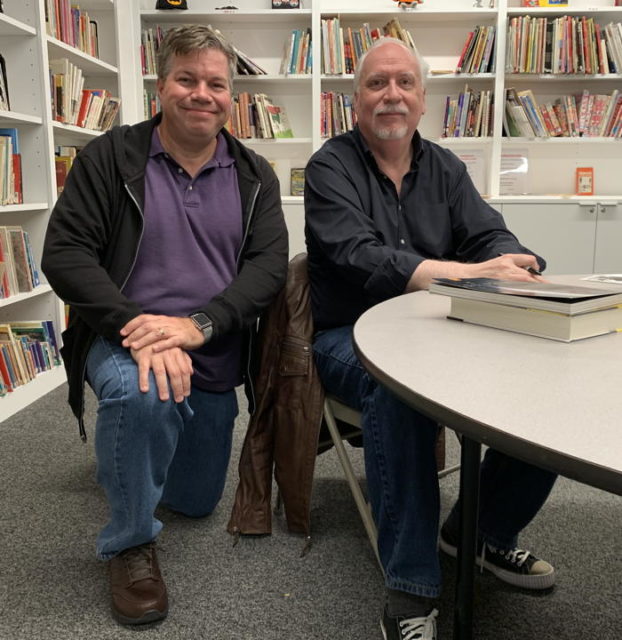 I highly recommend seeing him speak if you have a chance. And I'm very much looking forward to reading his new book.