Debbi and I are both off work this week for the holidays. We haven't really been feeling in the holiday spirit this year: It took us three weeks to put up most of our outdoor Christmas lights (in part because it rained two consecutive weekends), and we decided not to put up a tree. I'm not entirely sure why, but December has been a real slog for us.
I think the enduring memory of this holiday is going to be taking Domino to the park, which Debbi has been doing for a few weeks, and I started joining them in the afternoons the Friday before Christmas. We have a surprising number of dogs in the neighborhood, and many of their owners bring them over in the morning or late afternoon to let them off leash so they can run around. The park is completely fenced in (it's a locked-gate school field during the school day), so it's pretty safe for trained dogs to get off leash.
Training Domino to coexist for our three cats has been a big source of stress for us this year, and while he's getting better, he and Jackson have some sort of antagonism going on, which has meant we've had to work to keep them segregated a lot of the time. He's doing better with Simon and Edison, but not so we can leave them alone together.
The park is different. While he can be barky towards trucks, bikes, and joggers, at the park he goes around and says hi to every dog and human, and plays nice with pretty much everyone unless they're a jerk to him. He enjoys chasing and being chased by other dogs, and while he sometimes wanders off a bit – sometimes even behind a building – he's always come back so far. Debbi thinks he suddenly realizes he can't see us and comes sprinting back.
Anyway, I've been enjoying these outings. We're getting to know some neighbors – even if we only know them by their dogs' names. I am still definitely more of a cat person, though.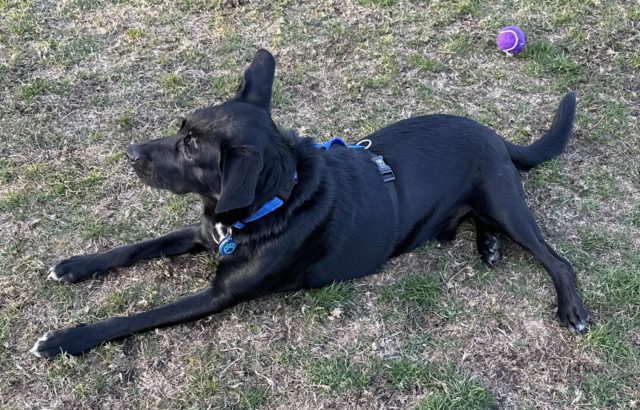 Christmas Eve we went to Cascal for dinner, and then drove around looking at Christmas lights as we do every year. I noticed my car was struggling a bit to start at each place we stopped, and figured the battery might be nearing the end, and resolved to call on Monday to get it replaced.
We had a quiet Christmas Day. Debbi made very yummy cinnamon rolls for breakfast, and I made my traditional meatloaf and potatoes gratin for dinner. Last year I had a pretty stressful time making the meal, so this year I looked ahead to plan. Debbi suggested I could prepare the potatoes and hold them until I was ready to put them in the oven with the meatloaf, and it turned out that just starting the potatoes first made all the difference, because they had to boil for a while before baking, and I used that time to make the meatloaf. Anyway, it was all delicious as always, and I added the beet salad that I concocted for Thanksgiving dinner. We also called our families during the day.
Monday I made an appointment for my car for Wednesday, but it turned out my car didn't start, so I figured I'd have to have AAA tow it in. Worse, late in the day we encountered a serious problem with our freezer: It had been having trouble closing at times, and now was both not opening all the way, nor closing all the way. I finally managed to close it after 15 minutes of tinkering, but we removed the important stuff to our chest freezer in the garage and decided to just leave the troubled freezer closed until it could be looked at.
Monday night Debbi ended up with what we think was food poisoning, maybe from one of the chicken pot pies we'd had for dinner after rescuing it from the freezer. It made her pretty miserable for a couple of days. We took COVID tests in case it was that, but they both came back negative.
On Tuesday Debbi made an appointment with a repair company for Friday – the fridge is still under manufacturer's warranty, so we crossed our fingers that this would just be an inconvenience. Meanwhile I called AAA to tow my car, but the tow truck driver saw that I had a AAA-installed battery (from 2018) and that it would be a lot cheaper to do that than to go to the dealer. And indeed after a couple of phone calls (by him and me), we determined that it would be less than half as much, so I did that, and 30 minutes later the car was starting again. I cancelled the appointment for Wednesday.
Thursday we had our friends Chad and his son D over in the afternoon and evening for several hours of playing Magic together. Their family has also had a month, so I think they appreciated some downtime away from home. I gave D a playmat and some packs from The Brothers' War as a late Christmas gift. We also picked up pizzas and subs for dinner from our nearby hole-in-the-wall place, which went over well. They were also Domino's foster family and I think Domino really liked seeing them, even though I think he was confused that they were at our house and their dogs weren't.
Friday we waited around for the repair guy, who arrived 3 hours into his 4 hour window. Fortunately it turned out to be an easy fix. The freezer had a number of cables inside which were getting twisted and blocking the track. I wondered why they'd have cables like that rather than just having the drawer be on the track, and it turns out – they didn't. The cables were there to keep things from shifting around during transit, and they weren't removed when the fridge was delivered like they were supposed to be. I don't know why we were able to open the freezer at all, but the repair guy removed them all and it's working fine now. The stupidity of the problem aside, it's a relief that it wasn't a problem with the freezer that could break again in another year.
Over the week I also watched the Watchmen TV series from 2019, which overall was excellent. I suspect people who aren't pretty familiar with the graphic novel wouldn't get as much out of it as people who are, but it's well worth watching anyway. I'm not surprised the show runner decided not to do a second series, because it comes to a pretty definitive conclusion.
Finally, we've had a quiet day today. Domino has been going a bit stir crazy because it's raining out and he doesn't want to be out in the rain, but he doesn't want to be inside all the time either. Debbi took him for a couple of walks, and then gave him a bath. I've mostly been hanging out on the couch. Tonight we're playing games remotely with family and friends (probably Jackbox), and I'll likely go for a walk after the rain ends since I haven't gotten any exercise today.
2022 has been a pretty bumpy year, with a lot of ups and downs, and I suspect 2023 will be similar. But I'm hoping we don't have to get as many things repaired.