There are a couple of webcomics artists I've been enjoying tremendously, though both of them update only sporadically, presumably because this is a hobby for them and they both have lives which take most of their time. They have a common theme of what I've been calling "everyday monsters", as they primarily feature nonhuman (or formerly human) beings in dark fantasy environments, but emphasizing the everyday lives and concerns of those beings
Both of them (coincidentally?) primarily post on Instagram and Twitter. Both of them post anonymously and have very little Internet presence beyond these sites as far as I can tell.
---
Pocketss (Instagram, Twitter) has "i like to draw fantasy nonsense" as their Twitter profile description. Their work has a running theme of people (or whatever) caring for other people. For example this strip about a swamp dweller who sees a passer-by carrying a lantern on a stock. Or this one about goblins looking out for each other.
There's also a cute running story – starting here – about a witch who invites a harpy to a girls' night party, throwing the harpy into confusion and anxiety. Poor harpy!
My favorite one, though, is this one about a vampire (?) who orders her thralls to leave her alone so she can… well, go see for yourself.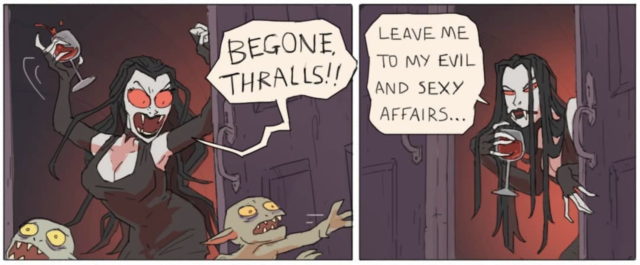 Pocketss also has a Patreon which I just signed up for.
---
Saint Monster (Instagram, Twitter) has "Monsters need love too" as their Twitter description. Ironically their work features far more actual humans than that of Pocketss, and a few more recurring characters. For example the halfling apprentice witch, who later appears here. Or the trio of human, elf (?) and goblin (?) travellers, who appear here, here, and have their best moment so far here.
But the strip that maybe best sums up their work is this one about a researcher who runs into a Sphinx.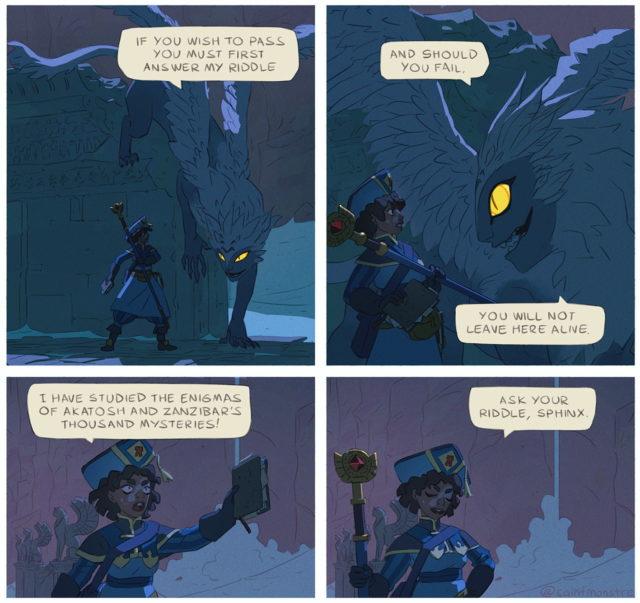 Their Twitter account has some fan art and a few other pieces by them besides the full strips which are also on Instagram. No Patreon, though.
---
I love both of these artists and hope they both get to a place where they can produce work more regularly.