Yesterday Debbi and I took a day off from work and had what Debbi called a "date day" – we drove out to a couple of spots in the Bay Area and had fun together. When Dad visited me last spring he and I went to Big Basin Redwoods State Park, and I thought that would make a nice outing with Deb.
We started by driving down to the Original Pancake House in Cupertino, which has the advantage over the one we usually go to (in Los Altos) of having more seating, comfier seating, and a lot more parking. Though the parking didn't come into play since the place was pretty quiet on, well, a Thursday morning.
Big Basin was much busier than when I went there with Dad (that's the difference between April and August, I guess, even on a weekday). I think I've decided Big Basin is not quite as nice as Muir Woods (at last as far as the main scenic trail goes), but it's still a fun little walk. Someday we might head back for one of the longer hikes.
After the park we drove down to Santa Cruz – eventually, since it turned out that Highway 9 was closed for the last few miles before Santa Cruz. The signage along the way didn't (IMO) make it clear that it was actually completely closed – the mere presence of "detour" signs aren't really persuasive since such signs are often put up long before and taken down long after the detour is relevant. At least the route was scenic before we had to turn around.
We did a little shopping in downtown Santa Cruz (always fun to drop in on Logos, not to mention the Pacific Cookie Company), and then headed down to the Beach Boardwalk where we walked along the beach, and out the wharf. It turned out that a landing along the wharf is currently hosting a group of sea lions, and you can get extremely close to them. I was standing about 4 feet above the lions when I took this shot: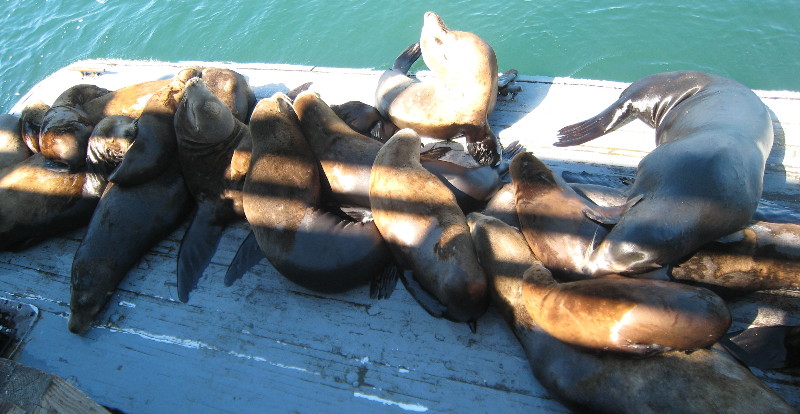 After returning home we collapsed for a bit before heading downtown to have dinner and walk around Thursday Night Live. We don't take many random days off, and as Debbi said it was nice to spend a day going around doing some fun things and not having any chores or errands to run. We'll have to do it again sometime. But where to go?