Last weekend we went to Las Vegas for the first time in several years. (For those following along at home, due to the frail condition of our two cats Newton and Blackjack, we didn't go away on vacation for several years. Both of them have since passed away, so we've been travelling again.)
Something about this trip didn't feel quite right to me from the time we booked it. This isn't foreshadowing, nothing bad happened on the trip; it just felt slightly off, like I couldn't quite figure out why we were going. Vegas can be a bit of an odd trip for us, trying to figure out what we want to spend time doing, especially since we've seen most of the spectacle before several times. But walking around aimlessly is tiring and kind of pointless.
What we did do was book tickets to go see Cirque du Soleil's "O", which we saw the first time we went to Vegas about ten years ago. (We had wanted to see their new show, Zarkana, but it was dark during January.) We flew in Saturday afternoon and went to the show in the evening. It's quite a spectacle, of course; it seemed like they'd changed it up a bit (in particular the closing piece was different from what I remembered).
We stayed at the MGM Grand, where we've stayed several times before. We liked them partly because they had a branch of Fat Tuesday in them, but also because they had a killer poker room, a large room with a variety of games. Sadly, their great room is no more, the space largely unused, and the remaining poker tables shoved into an alcove to one side of the casino. And they only seem to have 1/2 no-limit games anymore. Disappointing. Also, the room where they used to bring in lions from a nearby preserve has been remodeled into a night club. And it turns out that Fat Tuesday now has something like eight locations on the strip, so we could find daiquiris all kinds of places.
Anyway, I went to the site All Vegas Poker to check out rooms, and it seems that the collapse of on-line poker has hit poker rooms on the strip hard, with many of the downsizing or closing.
I struggle to have the courage to play no-limit poker; all my poker playing friends seem to play no-limit when they come to Vegas, and that's what we play in our nickel-dime home games, at which I hold my own (and our home games are tough). But I feel more comfortable playing limit when I play for real money, so we went to the Flamingo, which still has a 2/4 game and I've enjoyed playing at before. It was a good choice: We visited several other poker rooms over the weekend and they were pretty consistently quiet, while the Flamingo's room was active during the day and busy at night. I talked to several people I played with during the trip and they said the Flamingo was one of the better rooms on the strip for finding a game at all hours.
While I play poker Debbi usually goes to play a mix of pai-gow poker and video poker. I often feel guilty for separating from her for hours at a time to play poker, but she seems okay with it. This trip I tried to embrace her giving me the time to sit at the table for a lengthy session.
Well, the first couple of days it didn't work out so well. Sunday in particular I spent the afternoon being dreadfully card-dead. Honestly the best I can say from the session was that I didn't lose much more than I was going to lose, and I actually made some pretty good folds when I did have good (but losing) hands. Monday afternoon was more of the same, except I had the sense to order some coffee with Bailey's to warm things up (or "add some variance to my game" as I joked).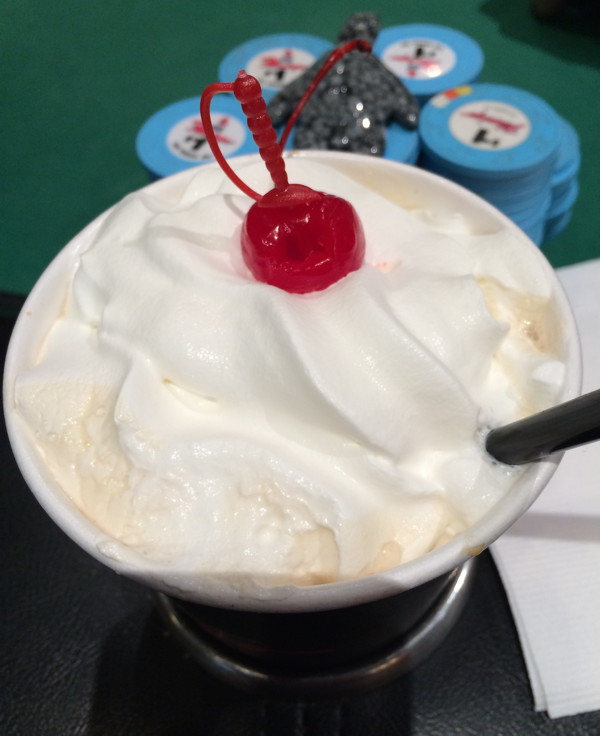 Monday night my luck finally changed and I was able to recoup most of my losses from the rest of the trip, winning some big hands and losing a few through bad luck. Overall I was pretty happy with how I played, which I guess means I need to figure out what the next step is to become a better player.
Monday night we also went to our usual dinner at Bally's Steakhouse (Bally's – another casino which has shoved its poker room into a corner of the casino). I was pleased to see they haven't changed much – if anything they've improved a bit with the addition of a mixed drink menu (their Old Fashioned was well worth the price). Afterwards we went to the top of the Eiffel Tower replica at Paris, which was a bit over-priced but fun anyway. I got a couple of good pictures of the strip from up there, too:
We had a quiet morning Tuesday before flying out. It was, overall, a fun trip, but it felt slightly dreamlike at times. I'm not sure if I wasn't quite mentally into it, or if the place has changed just enough in five years that I was thrown off. I do want to go back, though, and perhaps we'll figure things out ahead of time a little better, now that we're familiar with what's changed.