So this happened:
Domino is a black lab mix, about a year and a half old, maybe 50 pounds? (My guess is he's 55-60.) (ETA: The vet says he's 45 pounds!) He had a rough early life: He was abused as a puppy, was rescued and had at least one surgery (one rear leg is stunted and we think has a pin in it so he can't bend the knee), then was sent to California where he was adopted and returned three times. Our friends Chad and Camille fostered him in between, so they got to see him grow up, and he became friends with their two dogs.
After he was returned the last time, Debbi decided to pursue us adopting him. He's going to be more her dog than mine, because while I like dogs, I've never really wanted to responsibility of a dog (which is rather different from the responsibility for cats). I'm going to help, of course, but she's primary.
He arrived with the name "Dominoes", but we decided to drop the plural.
We brought him home a week ago, having picked up a couple of crates, beds, food, toys, bowls, and a leash. Understandably he was tentative at first, but he seemed to trust us, and he got more comfortable over the next few days. We even took him with us to pick up dinner!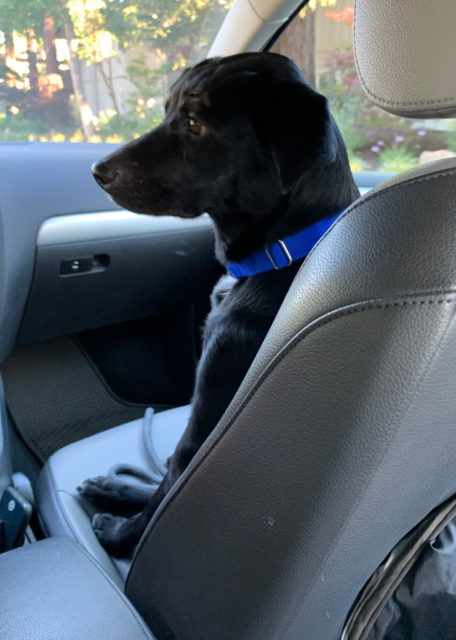 Integration with the cats has been… bumpy. Maybe because he doesn't have much experience with cats, we're not sure. He barks at them and sometimes lunges at them if they get too close. But sometimes he does the "I want to play" crouch. He's slowly getting better but there's a ways to go. We've been keeping him on a leash inside to control his lunges.
The cats' reactions have been varied. Jackson pretty quickly decided the dog doesn't impress him, and he quickly returned to his normal habits. He's had a couple of close encounters with Domino, but no one's gotten hurt yet. Simon by contrast has mostly kept his distance, and spent the first couple of days mostly under the bed. Edison is somewhere in between. All of them have been figuring out Domino's habits (he sleeps in a covered crate, he spends most of the work day in the dining room with Debbi, etc.), which I think has helped them be more comfortable.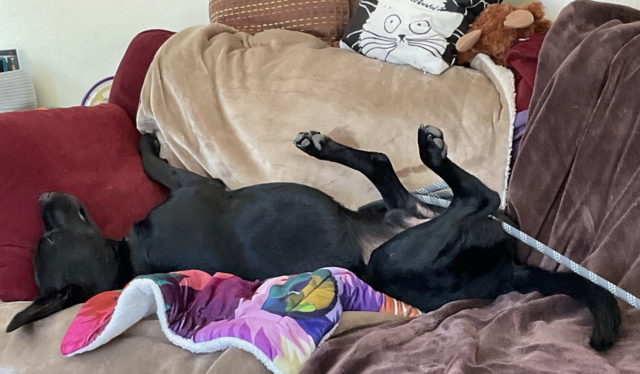 I think Domino has accepted us as his humans. Debbi has been taking him for a walk in the morning, though he is a low-endurance pupper and I doubt I'll be taking him on my runs any time soon. He is enjoying the back yard, though, and his favorite game seems to be tug-of-war. Sometimes he just gleefully runs around the yard with a kong in his mouth.
So it's an ongoing adjustment. I'm hoping he'll eventually chill out enough that the cats will lie with him, or at least play a bit with him, but I'll settle for him not going after them, even if there's some barking. We're doing some training with him on Saturday, and there will be more in the future.
In any event, we now have this big ol' labradork in our family.