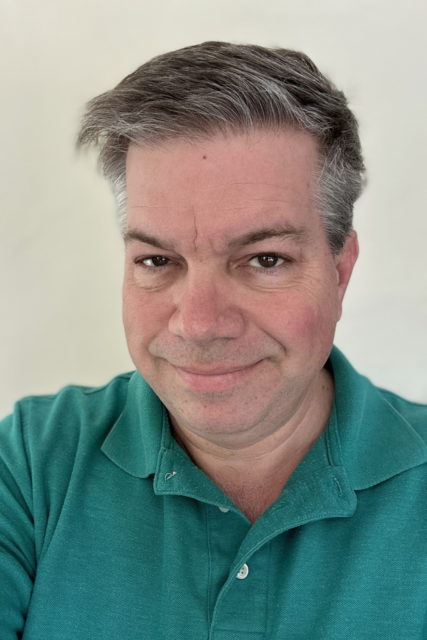 I think it's been a while since I've posted a photo of myself here, so that's me up there, a few days after my actual birthday since I'm back-dating this entry. My hair has been doing some funky things in the front lately, it's continuing to gray in little bits around the edges, and my face is developing those telltale signs that I'm not a young guy anymore. (The furrow between my brows is especially annoying.) I thought about being artsy and doing this in black-and-white, but that made me look terrible, so instead you get to see the color of my current favorite shirt. And my apparently larger-than-I-realized forehead.
Anyway, John Scalzi posts a portrait of himself each year on his birthday, so maybe I should do the same.
My birthday fell on Martin Luther King Day this year, which meant 3-day birthday weekend! Saturday we watched the 49ers obliterate the Seahawks in the playoffs (sad Pete Carroll is best Pete Carroll), and in the evening we went to dinner at Sundance the Steakhouse, which was as good as I'd remembered. We'd only gone once since the pandemic started – when they still had an outdoor seating area the winter of 2020-21 – and I've missed it.
Sunday we went over to visit our friends the Hoffmans, where Domino got to play with their pups, including their current foster pup who I think needed to get some orientation to other dogs. It has been raining like crazy in California for the last month, and there was more rain on Sunday, so everyone mostly stayed inside. I played Magic with their son D which was fun – introduced him to a different 2-player draft format – and then they made pot roast for dinner and a chocolate cake for dessert.
We had a quiet Monday, and Debbi made a cinnamon Chocolate Chip cake for dessert, which ended up especially moist and yummy. We ate some while watching Moon Knight as we're still catching up on television series from last year.
I used to throw parties for my birthday, but even without the pandemic I think I'd enjoy having low-key ones, as I do in reality. I miss holding our summer open house parties, but otherwise I'm happy to see friends in smaller groups these days.