The main plan for this vacation was to spend a week on Cape Cod. My parents have been vacationing there every year (well, as far as I know they haven't missed a year) since I was a kid. Even after they divorced they continued to go, each one going down to the cottage on consecutive weeks, with my sister Katy and me going down for two weeks. We moved among different cottages in Orleans over the years before eventually settling on a duplex near Skaket Beach.
Katy suggested last year that we all go down with my Dad this year, so we were able to rent both sides of the duplex. Dad and I drove down last Saturday, and Katy joined us, with her boyfriend Andrew, and her son I and his daughter A. I haven't done more than a day trip down to the Cape in over 20 years, so I was looking forward to this.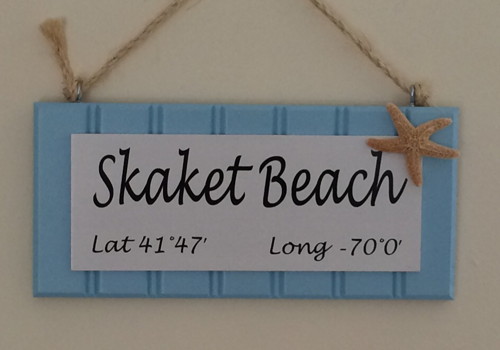 We had gorgeous weather for most of the week – a little humid at the start, and a little cloudy at the end, but considering it could easily have been drivingly hot and humid all week, or raining, I'm not complaining!
We settled into a pattern of Dad going to get us pastries for breakfast in the morning, and we'd each brew coffee on our sides of the cottage. It was relaxing. Katy and Andrew went out for runs or walks in the morning, and sometimes I'd amble down to the beach to look around. We spent some time down on the beach during the week, but we also spent a lot of time going out and doing stuff.
We took a trip down to Chatham, where we stayed for a few years when I was quite young. It's got a cute downtown with a nifty candy shop, among other stores. On the way back we swung by the beach, which has changed a lot over the last few decades, as storms have washed away the natural breakwater and radically changed the shape of the sands. Once upon a time you could walk in the shallows and pick up starfish, but I don't think they come in that far anymore. I bet that over the next few decades that erosion will even threaten Chatham Light which stands a few dozen yards from the bluffs over the beach. We'll see.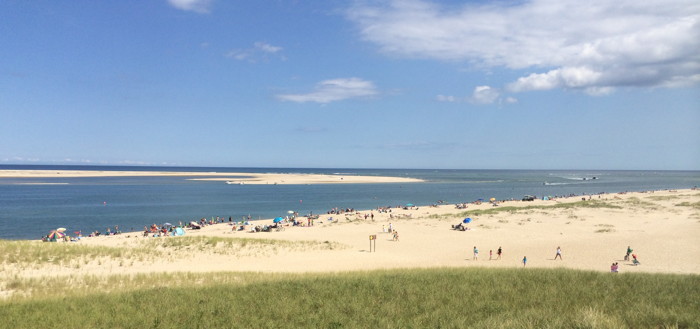 None of us were terribly familiar with restaurants to go to on the Cape, so by Wednesday we were turning to Yelp to find some places to eat. We found several good ones, such as the Orleans Public House (which we went to three times), and the Rock Harbor Grill.
On Tuesday, everyone else went off on a horseback ride, so Dad and I drove down to Woods Hole to see the Oceanographic Institution (WHOI, pronounced "hooey"). Unfortunately, it took longer to get there than I'd expected, and it turns out the WHOI buildings close down at 4, so we didn't get to see a lot. But it's pretty down there. We'll have to go back earlier in the day someday.
On Wednesday we went to the Edward Gorey House, where we tried another new restaurant, the Optimist Cafe, which was maybe the most popular among us. The Gorey House was quite cool, with lots of samples of his cartoons and original works. The house is the house he lived in, which is also pretty neat. And there's a scavenger hunt based on the Gashleycrumb Tinies. Well worth the visit. I wish I'd bought one of their tote bags.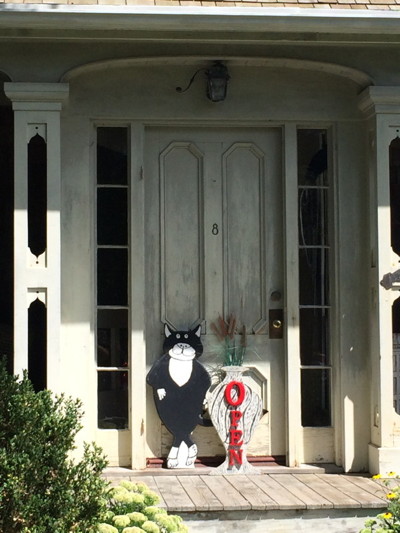 On Thursday, Debbi came down with her sister Dianne and two of her kids, R and J. The girls, R and A, are about the same age, and the boys, J and I, are also about the same age. After a bit of ice-breaking, they all got along great. We got pizza for lunch, and then went down to the beach for a couple of hours. It was nearly low tide, so the boys dug in the sand for a while, and the girls pulled the floats out to the water and paddled around until it was time to go. Everyone seemed to have a great time!
Andrew and A left Friday morning, and the rest of us made a trip to shop in Wellfleet. We had lunch at the simply-named Bookstore & Restaurant; I'd been going to the bookstore for decades, and always assumed the restaurant was just a basic diner, but it's actually a quite good restaurant. The bookstore, sadly, is a shadow of its former self; I found a number of neat things there in the past (they once had a fine set of silver age comics, for example), but now it seems to be a barely-organized collection of random stuff. Too bad. Anyway, we also walked over Uncle Tim's Bridge, which is quite scenic. Well, on the way back I and I (heh) ran down the hill and across the bridge as fast as we could go. I can outrun him, but he's not far from being able to outrun me. Then we waited for Dad and Katy to catch up.
Saturday it was time to head out, so we packed up and cleaned the cottages and drove home. Dad and I stopped at the Optimist Cafe for brunch, and bludgeoned out way across the Cape through nasty traffic. I visited Mom for the afternoon and then went back to have dinner with Dad and do laundry. Tomorrow Debbi and I fly home.
It was a nice, relaxing trip. Kind of nice to be off the Internet for a week except for my iPhone. I don't know when I'll make it down there again, but hopefully before another 20 years go by.