Often when we ship a new version of Mac OS X, there will be a celebration event for the organization. We were trying to remember the other day whether we've had one for every release (I'm pretty sure we didn't have one for Puma), but I've thought in any case that none of them equalled the party for shipping Cheetah (OS X 10.0), which was held in Hangar One at Moffett Field.
But I think we just surpassed that one, with the party for Snow Leopard, which was held on Friday evening at the newly-rebuilt California Academy of Sciences. The museum shut down for a private party for just us, and even though there were hundreds people there, I'm told by people who have been to the new building (this was my first visit) that it wasn't anywhere near as crowded as when it's open to the public, so it was totally worth it. I don't even want to think how much it cost to rent the place for a Friday evening.
I visited the old Academy a couple of times before it was demolished (like the De Young Museum nearby, Cal Academy's old buildings were damaged in the 1989 Loma Prieta earthquake and had to be rebuilt from scratch), and I recall it being interesting but quaint, in an old stone-and-concrete structure which felt too small for the Academy's ambitions. The new building is huge, three stories tall with a garden that covers the whole roof, and a spacious floor plan based around the Morrison Planetarium in one wing, and the tropical rainforest in the other. It's quite a structure.
I love rainforests and we made a point of visiting before it closed at 8 pm (the party started at 6:30). You start at the bottom and walk upwards, with the air getting more and more humid as you progress. There are butterflies and birds in the habitat, and you're asked to check yourself for butterflies before you leave. We also made a point to get Planetarium tickets, where we saw a show titled "Fragile Planet" about the possibility of life on other worlds. The script was a little dodgy at times (although it might play better to someone who hasn't been reading science fiction all his life), but the visuals were fantastic, especially the opening sequence of lifting off from Earth. Well worth the visit.
The "living roof" was disappointing only in that you can't see as much in the dark; I suspect it's better seen in the daytime. Certainly it looked stunning in the Planetarium show. But the interior didn't disappoint, with African dioramas, the giant pendulum, fossils and skeleton reproductions, displays and interactive presentations, and the Steinhart Aquarium, which is not as impressive as the Monterey Bay Aquarium, but is still fun. The party lasted until 11, which was enough time to see everything, some things more than once.
Debbi came with me as my guest, and were socialized with many of my cow-orkers and their guests. Over the last 10 years I've gotten to know quite a few people at Apple, though it's always a little surprising how many people I don't recognize, even from just walking around campus. It's a big company.
Debbi and I left a little early – although things were starting to wind down – and went to Ghirardelli Square to wrap up the evening with ice cream.
I didn't take pictures of the party itself, but we did take some good pictures of the academy, for your viewing pleasure. I certainly recommend going if you're in the area – assuming you want to brave the crowds.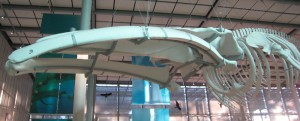 The hanging blue whale skeleton
(click for larger image)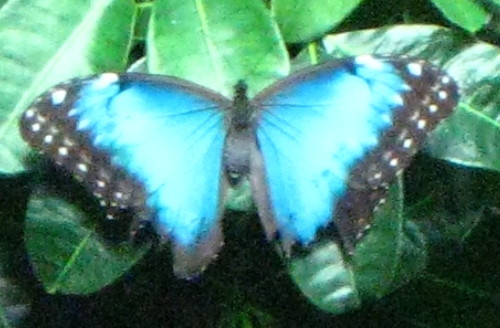 Large blue butterfly in the rainforest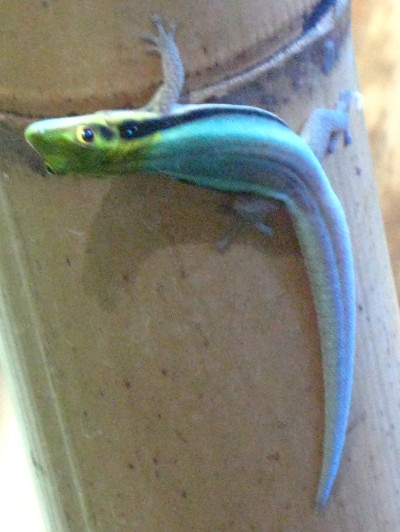 This lizard is smaller than my hand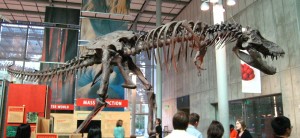 Tyrannosaurus Rex skeleton
(click for larger image)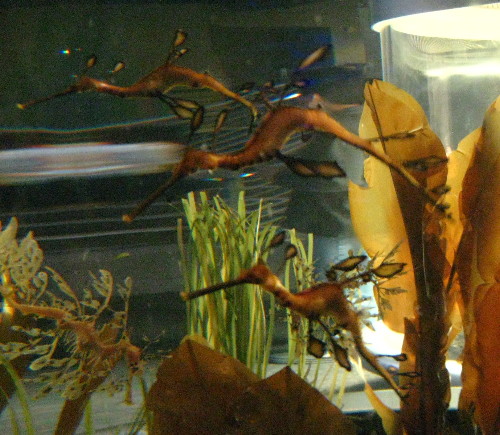 Sea dragons
(photo by Debbi)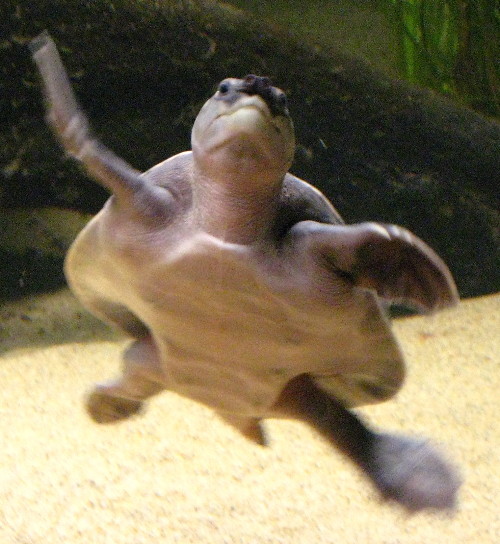 A lively sea turtle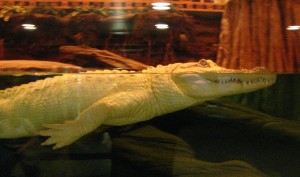 A rare albino alligator
(click for larger image)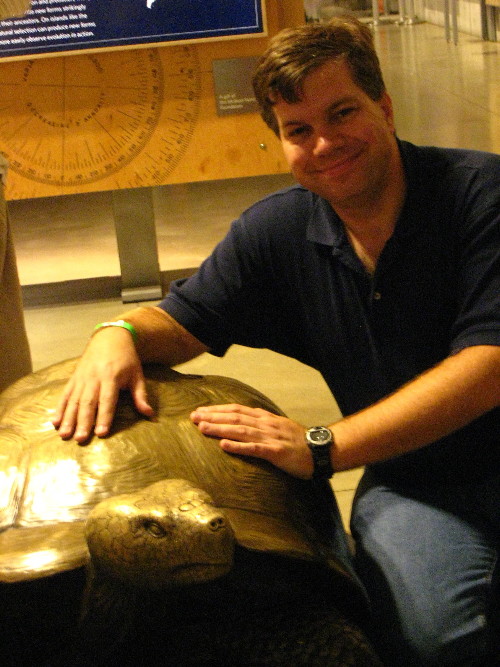 Me and a model of a large tortoise
(photo by Debbi, of course)