Our big excitement this weekend is that we added two new members to our feline household!
We'd been thinking about getting some kittens for a while. While we did already have three cats, Newton is elderly and Blackjack is slowing down due to his lymphoma. Roulette is 9 years old and still active, but she seems to be getting a little bored without another cat to play with. We know that integrating new cats into the household will take work, but certainly we would look at getting new cats if we ever got down to just Roulette, and it seemed to make sense to get Roulette used to them while she was still young enough to make the adjustment.
So Saturday we went to the Silicon Valley Humane Society. They have an amazing facility over in Milpitas (the outdoor dog exercise areas alone are impressive!). We weren't set on getting kittens immediately, but we were open to it. We met a couple of 4-month-old brown tabby cats who were very nice, but the ones that won my heart were a pair of 2-1/2 month olds, who we ended up taking home that day.
We spent an hour in a whirlwind of activity preparing the library for them while they sat in their carrier in the bathroom, and finally we were ready to let them out into the room that will be their home for a few weeks. They're both bundles of energy, and they spent an hour chasing each other all over the room when they emerged.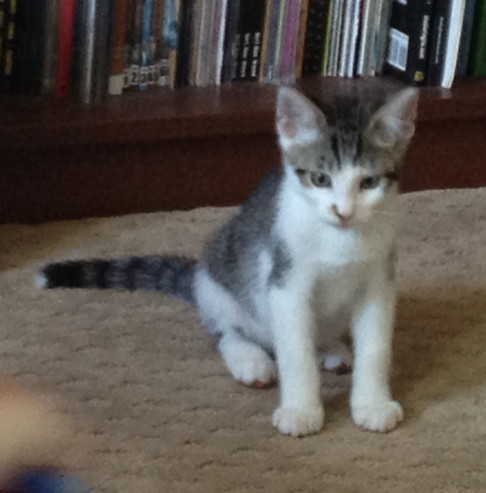 The boy with the gray tabby pattern we're tentatively naming Jackson, although we're still mulling over that one. He's a very high-energy kitty, and is very snuggly when we first go in the room after some time away. He's also quite meowy and has a loud purr motor which engages whenever you pick him up.
The white girl with the orange tabby markings I think we're going to call Sadie. She's a little more subdued than her brother, but only because I think she paces herself better and isn't as aggressive. But she can still keep up with him and rarely gets overwhelmed. She enjoys burrowing under the blanket on the chair in their room.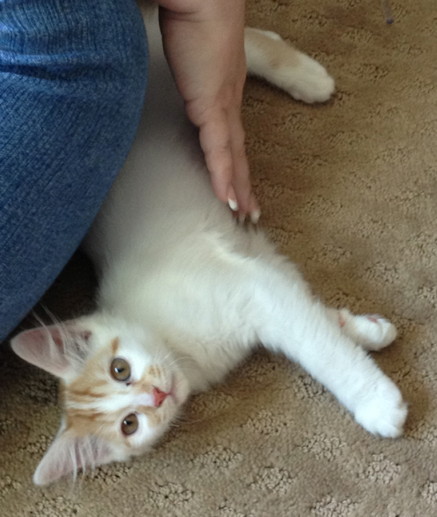 They're going to stay in their room for at least a couple of weeks. We put up a baby gate at the door to make it easier for us to get in and out without risking them dashing out (Jackson already tried to escape once before we got the gate). Blackjack and Newton have both seen and sniffed at them through the gate, but seem mostly uninterested. Roulette is quite agitated as she knows there's something there, but I don't think she knows what. We introduced her to them through the gate tonight, and she didn't hiss, but she didn't approach them, either. I think it's going to take her a while.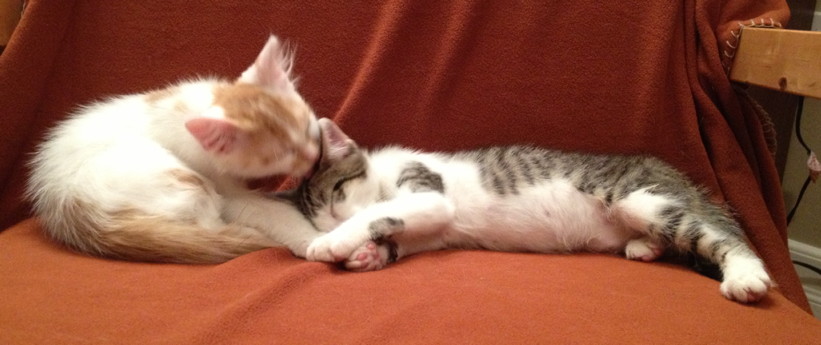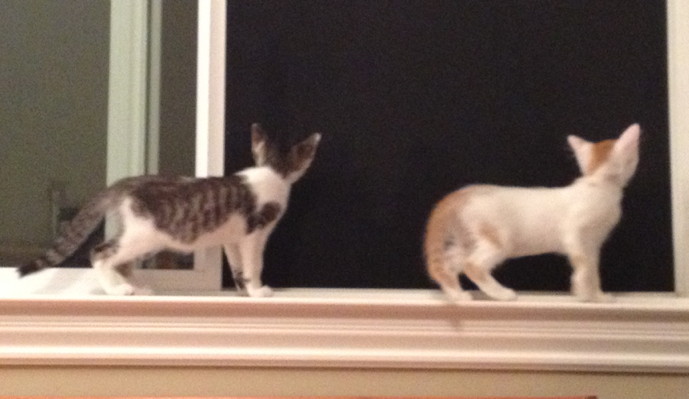 It's a big step for all of us, but it's a step we knew we'd be taking eventually. And the timing works out because I'm off work for a week, and Debbi for half a week, and then we have Christmas break in a little over a month. So we can spend lots of time with them.
Wish us luck that this integration goes as smoothly as getting Jefferson and Newton used to Blackjack and Roulette did!